About Us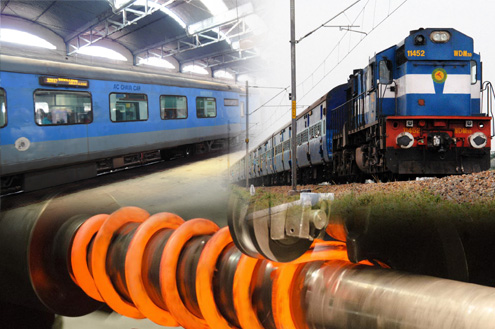 Quality, reliability and safety are of the paramount importance in the railway industry and any organization that is involved in the design, specifications and manufacturing of components for the rail transport system. Frontier Springs Ltd. meets the requisite demands professionally due to the decades of experience in the field.

Established in 1981, Frontier Springs Ltd. started with the production of Leaf Springs and Laminated Bearing Springs for Automobiles and Railways. Steadily as the railways modernized, so did we and within a few years had expanded our plant to accommodate the high demand for Coil Springs for wagons, coaches, and locomotives for the Indian Railways and many more clients.

Although, our experienced team can design springs using design software by Institute of Spring Technology, Sheffield as per the specifications given by the clients, we have been preferred manufacturers for the following springs with the Indian Railways-


Springs for LHB Coaches
Suspension Coil Springs for Freight Stock
Suspension Coil Springs for Coaching Stock
Suspension Coil Springs for Diesel and Electrical Locomotives (EMD, WAG 9, WAG 7, etc.)
CLH and VLH Coil Springs for Power Sector (BHEL)
Frontier Springs Ltd. comprises three different units all working in synergy to fulfill the demands of clients and also developing new products periodically.


We adopt updated technology throughout our processes of manufacturing which is why Frontier Springs Ltd. is always moving forward and has systematically grown over the years. Our fully equipped laboratory is one such example of our willingness to adopt all the latest techniques that science has to offer in our Industry.


The main aim of Frontier Springs Ltd. is to manufacture the springs of the best quality and international standards at low cost. To achieve this various processes are undertaken at each and every stage of manufacturing which involve different kinds of testing techniques where our state of the art laboratory is put to use.


Our dedication towards the clients and ultimately the end users is unparalleled. Our aim is to provide the products swiftly but efficiently and safely to all our clients. In the future we are planning on further expansion and development of more forging components for Railways, Heavy Engineering Industries, Defence etc.