Springs Division >> Products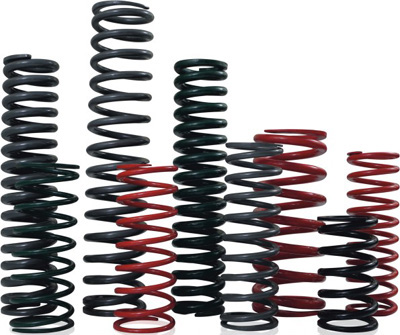 We are leading manufacture of Hot Coil Springs supplying to Heavy Engg. Industries, O.E. Manufacturers in India & Abroad in order to obtain better space utilization, more fatigue and weight reduction, different type of Coil Springs are manufactured at Frontier.

Range of Coil Springs varies from 10 mm wire dia to 65 mm wire dia with maximum free height upto 1000mm.

Variable Load Rate as well as fixed Load Rate Coil Springs are manufactured by high quality Chrome moly and Chrome Silicon Steel Rods duly crack detected and Epoxy Powder Coated.
Technical Data
Coil Springs
Bar dia :
Spring height :
Spring Outer Diameter :
Specification :
13 mm to 65 mm
100 mm to 1000 mm
50 mm to 400 mm
DIN, SAE, IS, etc.
Steel Grade
60Si7, 52Cr4Mo2V, 50CrV4, SUP-9 etc.
Custom Design
Our engineers are continually designing special springs for specific applications in an ever widening market. Take advantage of our expertise and let us help design and supply your production spring requirements. We are a certified quality manufacturer with a name you can trust. Frontier, the quality name in OEM Hot Wound Coiled Springs.
Products designed in affiliation with Institute of Spring Technology, Sheffield.